TALTON MILL JULY NEWSLETTER
By Talton Mill In General On 26th July 2019
---
a message from farmer Mark Holberton
I am half way through my year on the farm and I would personally like to share some memorable moments with you.
The sight of Talton Mill buzzing with people is wonderful. A couple of weeks ago the farm was filled with 175 youngsters and their parents from The Croft School who arrived in their big red double decker bus to the tune of "We're Coming Home" and then disembarked at the farm for a gloriously sunny evening of BBQ (cooked on our victorian bath – "The Bathecue") and outdoor games. All to celebrate the end of their time at junior school. Wonderful.
The Croft School Leaver's BBQ on the farm
I am pleased to say the cafe and events business in The Mill Woodhouse is thriving due to the vision and hard work of two very determined ladies … my wife, Liz, and her business partner Fran. Together they have built a popular destination point for a hearty English breakfast, brunch or lunch or a visit to one of their evening Supper Club events or workshops. They have recently been awarded a TripAdvisor Certificate of Excellence for consistently achieving great reviews of the past year. I am so pleased for them that their hard work is paying off.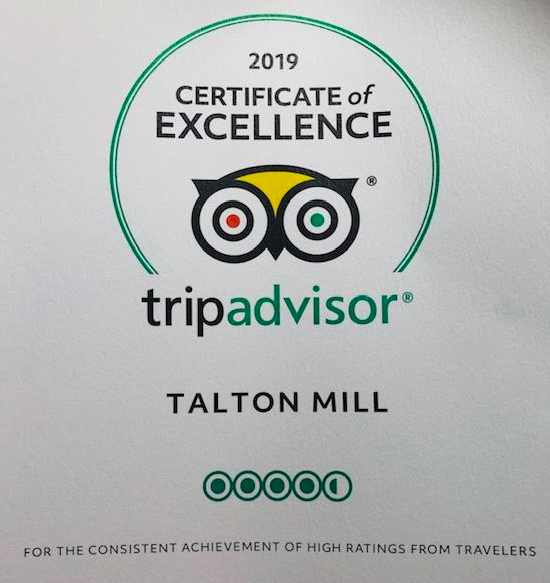 Certificate of Excellence
Midsummer Feast Night
Fran and Liz also had a full house for their Midsummer Madness Feast night on midsummer eve. After heavy rain the previous week, the weather was on our side and guests enjoyed a delicious meal of Talton slow cooked and shredded pork served with stuffing and apple sauce on a large sharing board along with plentiful supplies of varied salads. It was a sight for sore eyes and all served to guests outside on our trestle tables. It was a real 'coming together' of the community which is always a very worthwhile experience.
THE BUTCHERY
Farm Meat Sale – There will always be a discount freezer for those who like a bargain.
We are changing with the times on the farm and I have decided, moving forward, to focus my attention more upon the production of our home reared pigs and hens. We have built up an excellent reputation throughout the area for these products and I am keen to continue building upon this.
The butchery will now be open on Friday and Saturday mornings from 9am to 1pm only. We will always have fresh sausage and bacon, our free range eggs, meat in the freezers and every week fresh meat from our farm. This week it is pork and chicken. Later on in August there will be our grass reared traditional beef. I will keep you all posted!
I will continue to supply Liz and Fran with my bacon, sausage and free range eggs for the cafe and meat for their events of course!
BBQ & THE BAND – Friday 16th August.
I am looking forward to our next farm Supper night on Friday 16th August. We will be wheeling out the 'BATHECUE' (our converted victorian bath), to cook up a delicious selection of my home reared meats all of which will be served with a selection of salads and crusty bread for all those attending. Liz and Fran will be making homemade chocolate brownies and fresh fruit pavlova for pudding too! Their visiting band this time is Simon Kemp's Bad To The Bone – an excellent rhythm & blues band. Tickets are £22.50 and are available from Fran or Liz in the cafe or online via this link : https://www.eventbrite.co.uk/e/talton-mill-farm-supper-the-bath-e-cue-the-band-tickets-62308534504
I look forward to seeing you in the forthcoming months and hope you have an enjoyable summer.
Mark
---